Nattovena®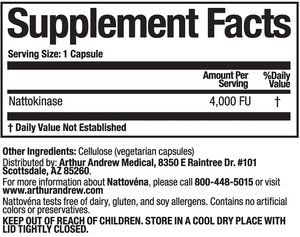 Economical choice for daily cardiovascular support.



The older we get, the more our fibrin levels fluctuate. Fibrin is an important protein involved in blood clotting.
Nattovena contains one of the highest fibrinolytic activities per capsule of any pure nattokinase supplements. This unmatched activity makes Nattovena a great choice for supporting normal blood viscosity and a healthy cardiovascular system.
The Best Nattokinase

My doctor suggested I take Nattokinase enzymes to support my heart. He recommended Natto NSK, but I had to take 4 pills everyday. I found Nattovena pure Nattokinase was double the strength. Who would ever want to take baby aspirin again?

Like

I like the product s but it's hard to pay for them on a v a. Pension

Take this before every flight

I have been using Nattovena for over two years. I would have swollen ankles from flying. I no longer get that problem using Nattovena. The customer service department is always very friendly and informative. I have enjoyed patronizing your company! Thanks so much

Keeps my blood flowing great

Nattovena keeps my blood thin. Normal clotting ensures proper cardiovascular health.

Awesome!

Natural alternative for what the doctor wanted me to take. No problems at all. Safe! Easy to take! Great customer service! Thank you!
Ingredients
Suggested Use
FAQs