Serretia®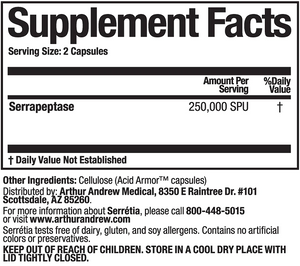 Supports healthy sinus activity, normal scar tissue formation, healthy blood flow, and relief from muscle soreness.



Serretia is one of the world's strongest serrapeptase supplements with a minimum activity of 250,000 SPU's per dose. This miracle enzyme has the ability to support healthy sinuses while promoting swift recovery from injury and/or overexertion from exercise. If you ever experience any of the following, then Serretia may be just what you need.
Slowed recovery
Sinus pressure or congestion
Joint discomfort or muscle soreness
A better serrapeptase.

It is most certainly of a much higher quality than Doctors Best which is Chinese owned.

your serrepeptase helps my joints so much. let me know when you have another sale !!!! thanks, nancy

this is a simple and effective solution WITHOUT any of the usual side effects of regular over the...

this is so far beyond anti-histamines for allergy, I am shocked how easy it is to overcome my allergies. I was having to have Kleenex box in every room. Now it seems like I hardly buy them anymore.

Serretia

Serretia was recommended to me for my abdominal scars. I have been very happy with it. I do feel it has helped me.
Ingredients
Suggested Use
FAQs