Neprofin PET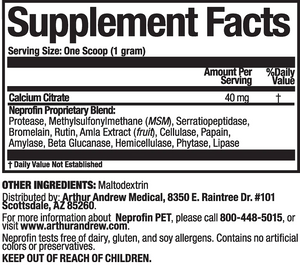 For pain-free living and improved well-being of household pets.


Pets are a major part of our lives. We want them to enjoy great health and a long life. So when our pets begin to show signs of aging, such as slower movement, more frequent napping, or shorter playtime, it can cause us to worry. But now there's a safe and natural supplement that can improve your pet's health and longevity.

Consider these three questions for a moment:
Is your pet's health beginning to decline?
Is your dog or cat hindered by joint stiffness and physical discomfort after playing?
Do you feel hopeless because you've been told there is no answer?
If you answered yes to any of these questions, then Neprofin PET maybe the product for you, and more importantly your beloved pet.
Add Neprofin PET to your pet's diet to help them live a happy, pain-free life—and help you let go of your worries.
Neoprofin PET

After reading about this product, I decided that it may help my 8 yr old Golden Retriever. Sammie's been struggling with joint issues for years. This product has helped him tremendously. So much so that I now buy the larger size. I wish I had found this sooner.

Quick delivery!

great product and fast delivery!

The Best Product Ever!!!

I have used this product for several years and would NOT use anything else. My baby is sound and healthy!

There are no substitutes for this product.

Even though our dog got some physical therapy and wore a knee support for a bit, I am convinced that Neprofin was a major contributor to our dog's return to normal from an injury. Although an operation was recommended, in this instance it wasn't needed. I believe it also keeps her in better shape. I continue to recommend it to others.

Unfortunately doesn't seem to be

Unfortunately doesn't seem to be solving the problem.
Ingredients
Suggested Use
FAQs