Maximize your dietary protein.
Aminolase®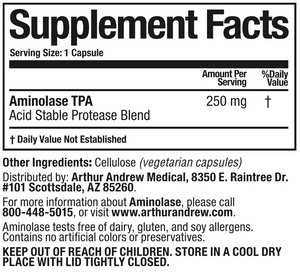 Maximize the benefits of your dietary protein. Aminolase is a proteolytic "protein digesting" enzyme that rapidly breaks down proteins into Amino Acids. Gain muscle, Boost absorption. Perfect for MEAT, DAIRY, & PLANT Proteins.



Aminolase is a powerful enzyme blend that maximizes the benefits of ingested protein, allowing it to be utilized for muscle building, recovery, and immune function.
In a university study, Aminolase improved protein bio­availability far greater than the body's natural digestive process (pancreatin) alone. Wasted protein can be hard on your kidneys and may cause occasional gas, bloating, and digestive distress.
Whether you're a fitness enthusiast or a gracefully aging adult, Aminolase enables you to get the most out of the protein that you consume without the occasional digestive discomfort associated with protein rich foods or supplements.
It works

I've been using this product for about 4 weeks now. The results have been better than expected. I work out every day so muscle recovery has been a problem. But after taking this product for just a few weeks all my sore muscles and the aches and pains associated with daily resistance training are all but gone. My muscles feel revitalized every morning when I get up. Honestly I wish I'd know about this product years ago.

Sarah

It helps with digestion of proteins. Use it when I eat a lot of protein.

Really works

I feel way more energy improves the digestion of any type of protein like shakes, meat and dairy.

I like a lot, makes your muscle recovery faster

Excellent I would recommend in a heart beat.

5 Stars

I've only tried the product once and have liked what I notice so far. I believe I can now drink my protein shakes thank you. I will reorder soon.
Ingredients
Suggested Use
FAQs