Devigest®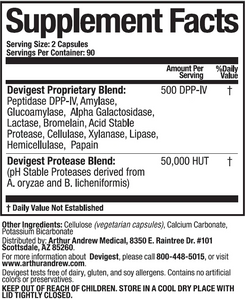 Eases occasional digestive complaints from many hard to digest foods such as gluten, casein, and lactose.



Is your gut trying to tell you there's something wrong? If you have occasional gas or bloating, or your stomach is making you feel uncomfortable or embarrassed, then those are signs your gut is lacking the digestive enzymes it needs to function well. Fortunately, Devigest can help your gut get what it needs—so you can get back to living your life.
Devigest is a 100 percent complete digestive enzyme blend that restores the body's digestive enzymes, supporting balanced digestion and complete food assimilation. This supplement contains an extremely potent blend of enzymes, including a unique Dipeptyl Peptidase (DPPIV) enzyme for breaking down digestive irritants, such as gluten and dairy products. For even more efficacy, Devigest has been enhanced to function over a broad pH range, allowing for complete digestion throughout the entire digestive system.
Lactose intolerance, gluten sensitivity, and other digestive issues are no match for Devigest.
Would highly recommend.

Has been very helpful in digestion of food.

decade of satisfaction

I've been ordering from Arthur Andrew Medical for over a decade and have always experienced a positive and knowledgeable response from their staff. They have a fine art of answering difficult questions with accurate and concise solutions. I have worked with Cable Howard (rep) over the years however each specialist I speak to is sterling. The loyalty discounts are helpful, and their products are amazing..........magical moments Linda Truman

The perfect digestive aid

What a wonderful thing this product has done for my digestion. Love it.

I have been taking/using them since last fall and my doctors and I have seen the greatest improve...

I have had to take digestive enzymes for years and thru those years still had major digestive issues. Happened upon Arthur Andrew Medical by the grace of God and only use their products now! I have been taking/using them since last fall and my doctors and I have seen the greatest improvement I've had in years. Need Info on them or to talk to them? Give them a call, everyone I have talked to is knowledgeable about their products and how and why they work. Try Arthur Andrew - you won't be disappointed!

Devigest

They do help with digestion.
Ingredients
Suggested Use
FAQs